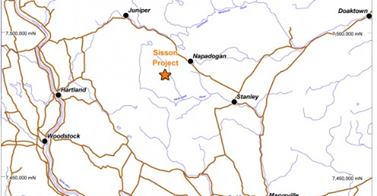 Did you know that the public is being asked to comment on the Environmental Impact Assessment put forth by the mine developers, Northcliff Resources?
It's a big document – over 5000 pages – so we'd like to invite you to learn about what some expert reviewers have to say about the Environmental Impact Assessment report and the possible impacts of the mine on matters such as air and water quality and public health. We hope you can use some of this information when you send your comments on the mine to the Canadian Environmental Assessment Agency (CEAA).
Monday Oct 7
Stanley
School Cafeteria
Tuesday Oct 8
Fredericton
Hugh John Flemming Complex
Wednesday Oct 9
Taymouth
Community Centre
Evening Agenda:
6:00pm: Welcome and light meal served
7:00: Presentations highlighting the Environmental Impact Assessment Report and open pit mining
8:30: Questions/Answer moderated by Nashwaak Watershed Association
9:00: Wrap-up
These discussions are being hosted by the Nashwaak Watershed Association Inc. and CCNB Action as part of the review and open comment period, with funding from the Canadian Environmental Assessment Agency (CEAA). Our goal is to provide information to the community, understand and document community expectations and concerns of the mine and the degree to which the community has been informed and consulted by the proponent as part of the community engagement component of the Environmental Impact Assessment process.
We hope you can join us for a free meal and a good community discussion. Please forward this invitation to friends and neighbours. For more information please contact:
Paul McLaughin, NWAI: 450.4943; blindfaithstudio@gmail.com
Stephanie Merrill, CCNB Action: 458.8747; water@ccnbaction.ca