Last week, on May 25th, the Nashwaak Watershed Association held a tree planting and live willow staking event at the Marysville Flats, which is a part of the Nashwaak Greenway. Since this area of land falls within the floodplain, willow stakes and willow plugs were planted along the river bank to minimize erosion and to stabilize the banks. To help reforest the Marysville Flats, silver maples, potted willows, and a few bur oaks were also planted in the area to increase the overall health of this floodplain ecosystem.
The day began with placing over 1,100 live willow stakes and 1,260 willow plugs into the riverbank. Luckily, we had over 15 volunteers from the Fredericton North Rotary Club, the Maritime College of Forest Technology, and those involved with the Nashwaak Watershed Association to help with the installation. In the afternoon, we were joined by over 20 volunteers from Siemens Canada to plant 200 silver maples, 100 potted willows, and 15 bur oaks across the Marysville Flats.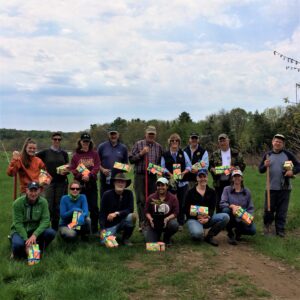 We would like to thank the many volunteers that helped us to plant trees and willow stakes during this event, which turned out to be a very successful day. We would also like to thank NB Environmental Trust Fund, NB Wildlife Trust Fund, Wildlife Habitat Canada, Tree Canada and Lush Cosmetics for providing us with their support, time, resources, and gifts for our volunteers.