On November 13th, 2019, we held our annual meeting, and overall it was a huge success.  We had 43 stakeholders from the community in attendance, including members from our Board of Directors. This year we have had support from 12 different funding sources spread across 18 projects. Dr. Peter Toner delivered the President's report and discussed the Provincial Water Strategy, Sisson Mine, NWAI Tree Nursery and Strategic Plan. He stated that increasing membership is a top priority of the association as we have never had over 100 active members.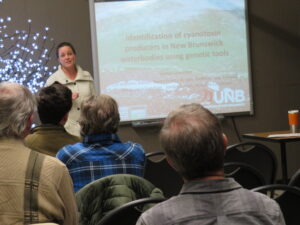 Dr. Janice Lawrence, from UNB Fredericton spoke on the topic of Cyanobacteria (blue-green algae). Dr. Lawrence's presentation described the genetic approach her lab uses for assessing the health of NB's lakes and rivers. Janice described the difference between green algae and cyanobacteria. She provided background on cyanobacteria and presented the microcystin and anatoxin data from Nashwaak and Wolastoq rivers. Cyanobacteria is a phylum of photosynthetic bacteria found in diverse habitats. Cyanobacteria thrive in warm waters with excess nutrients, particularly phosphorus.
We would like to thank the NWAI Board of Directors for contributing their time and effort this past year, and we would like to thank community members who continuously support us through memberships and volunteering.  All members were in favour of approving the 2019-2020 board of directors:
Peter Toner, President
Stephanie Merrill, Vice-President
Josh Noseworthy, Treasurer
Jean-Guy Leaman
Melony McCarthy
William Miller
Brian Perry
Julia Carpenter
Mike Chamberlain (new director)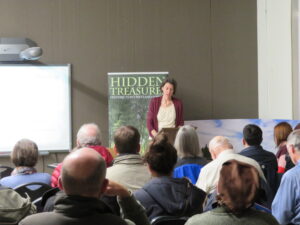 We would also like to thank our funders; the NB Environmental Trust Fund, the Atlantic Salmon Conservation Foundation, the NB Wildlife Trust Fund, Eco-Action Community Funding Program, LUSH Cosmetics, Department of Fisheries and Oceans, SEED, Canada Summer Jobs and Tree Canada We would like to thank all of our in-kind partners as well.
Again, we would like to thank those that continually support us, and we look forward to seeing everyone next year at our 2020 Annual General Meeting!