It's no secret that the Nashwaak Watershed Association plants a lot of trees, but this year we found a way to plant a whole lot more! During the spring and fall months, the Nashwaak Watershed has been working to restore silver maple floodplain sites at Neil's Flats and Marysville Flats (owned by the City of Fredericton). Marysville Flats is the primary location for the Nashwaak Watershed's planting and restoration projects. This site is a retired hayfield that was originally a silver maple floodplain forest. The Marysville Flats restoration is almost complete, and has employed the planting of over 3000 trees. Neil's Flats comprises 50.7 hectares of floodplain area owned by the City of Fredericton. Around 70% of this property is abandoned agricultural fields, with the remainder comprising a fragmented silver maple floodplain forest.
By restoring both of these properties, we are achieving many goals, such as preventing riverbank erosion, increasing flood mitigation, and restoring valuable floodplain forest. Silver maple floodplain forests are known for taking up large amounts of water and have the capacity to reduce flood levels. Tree roots will also help to stabilize the soils in these areas as well as increasing carbon uptake and sequestration from the atmosphere with the addition of new trees. Restoring these sites is not only beneficial for our local communities, but also for wildlife. Planting trees helps wildlife by creating habitats and increasing species composition within the watershed.
---
Despite the uncertainties of the pandemic, the NWAI has been able to plant over 1100 willow and dogwood stakes and over 1800 trees, including species such as silver and red maple, bur oak, cherry, and serviceberry. This could not have been achieved without the continued support of our project funders.
Despite planting over 1800 trees this spring, the NWAI has even bigger plans for 2022. As a part of our strategic plan, the extent of floodplain forest is slated to have increased from 21% to 25% by 2030. This means that the area of floodplain forests within the watershed will need to increase by over 70 hectares. In order to increase this area, around 15,000 trees will be planted next year – a big jump from the previous 2000 per year.
---
Due to the large number of seedlings that will be needed in the upcoming years, rather than sourcing smaller numbers of trees from nurseries in the Fredericton and surrounding area, the NWAI decided to source their own seeds from local silver maples. This consisted of a multi-day seed-collecting project as well as consultation from the National Tree Seed Centre (NTSC) and multiple local arborists.
The first step towards collecting the many litres of seeds that would be needed was to scope out the trees in the area. Local trees were the best option as they would provide valuable genetic material that would be better adapted to the areas in which they are to be planted. For this reason, the majority of the seeds came from trees within the Neil's Flats restoration site. Over 20 silver maple trees were initially flagged to have their seeds harvested. Once the trees had been chosen, the seeds needed to be extracted from the trees.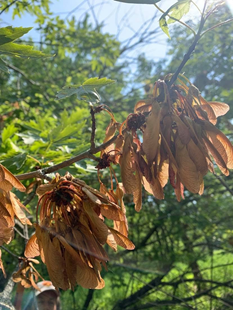 Seed collection was done using several different methods. One method involved cutting smaller branches off of the trees and harvesting the seeds from these branches. This method was used for some trees as it allowed more seeds to be collected while still maintaining the health of the tree. The second method involved manually harvesting the seeds from low hanging branches. This method was somewhat useful for lower-hanging branches but not for taller trees. Therefore, a mixture of these methods were used when collecting seeds.
While some of the work could be done from the ground, the help of several local arborists was also required. The arborists scaled a total of seven trees to collect over 140 litres of seed, while over 80 litres were collected by several people on the ground. A large quantity was also collected from several silver maple trees in Hampton. These trees showed good survival in the current climate and were deemed appropriate for planting next year.
Once the seeds had all been collected, they were shipped to a nursery in Nova Scotia. Scott and Steward Forestry Consultants Ltd. is a non-industrial forest management firm in St Andrew's, Nova Scotia – one of the largest in Atlantic Canada. Their operations include many things, including but not limited to operations such as harvesting and land clearing as well as silviculture and tree-growing. Our many litres of seeds were sent to their nursery to grow until next May, when they will be sent back to us to be planted.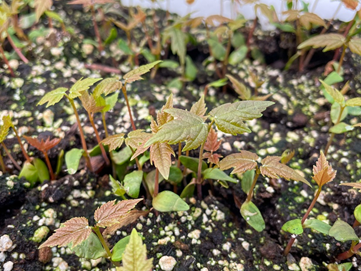 This exciting project is the first of its kind that the NWAI has completed. The upcoming year will hopefully show success, and the process can be completed many times in the future. Keep a lookout for other news regarding the seed harvesting project!